First crush
Posted on Feb 14, 2018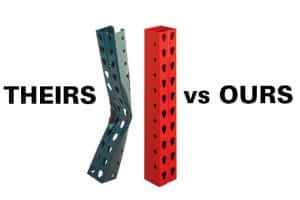 Everyone remembers their first crush.
Ours was Steel King's SK2000 CLOSED BACK roll-form rack.
It was Chicago at ProMat in the middle of the expo floor – amidst the crowds and the noise.  A section of SK2000 pallet rack and an open back rack of the same gauge were exposed to the same impact in a dramatic head-to-head comparison test.  (See video below.)
And we CRUSHED IT!
Both column sections were placed into a machine and hit with the same force as a forklift at roughly 5 mph …  The SK2000 was pulled from the machine with barely a scratch.  The competition was crushed flat.
Steel King's fully closed SK2000 rack out-performed the open back racking in every comparison test – from the front, from the side … and twisted.  The result was clear.  Independent engineering tests confirmed that, when compared to open back column, SK2000® has:
   250% more frontal impact strength
   44 times more resistance to twisting
   68% more side impact resistance