The Importance of Flue Space in Fire Detection
Posted on Oct 10, 2019
Whether you operate a warehouse or design the rack systems for them, a few small design or operational changes could mean the difference between a localized fire and a devastating loss or tragedy.
The most effective way to reduce the chances of a fire overtaking your warehouse rack is to have a fire sprinkler system installed within the rack system itself. At the first sign of a fire, it will be activated and either put the fire out completely or, at the very least, stop it from spreading throughout your warehouse.
Another aspect, which is not as obvious, is maintaining the flue space within your rack system. Flue space is the small but significant space within the rack structure that allows vertical lines of sight from the floor up to the ceiling. By keeping these flue spaces cleared of blockage caused by loads within the rack structure, this clearing allows for better efficiency in fire detection, quicker fire suppression, and a reduction of horizontally spreading fire.
Flue spaces are clear vertical lines of sight from the floor up to the ceiling within rack storage areas
There are two types of pallet rack flue space:
Longitudinal: these are the spaces between rack rows set perpendicular to the direction of loading. They're simply the space between two rows of racks.
Transverse: these flues are the spaces between pallets, and between pallets and uprights, facing the storage aisle.
Pallet flue space is required for all racks having storage for any pallet rack with a height of 25 feet or greater. The National Fire Protection Association (NFPA) sets guidelines for determining the minimum flue space for pallet racks, but that is the minimum, and your local building code may be different.
There are a few simple mechanisms that can help maintain this critical space.
One mistake that is commonly made is to use a solid rack decking. This will encourage horizontal flame spread and will prevent sprinkler systems from functioning adequately.
Be certain your pallets and loads are the right size for the depth of your rack, as well as the width, in order to maintain the flue space at the sides and back of your pallets.
Row spacers
Row spacers are frequently installed to produce precise longitudinal flue space. To be effective, that space must have been correctly designed and the pallets within restrained so that they do not block a clear line, top-to-bottom longitudinal flue.
Well-designed storage systems allow the pallet to hang over the back beam in a double row and still maintain adequate longitudinal flue space between rows. While the required space may depend on local fire regulations, the most common space is 6″ between loads, which means that the space between rack uprights must be greater than that.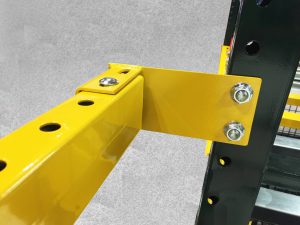 However, pallet push-through can still result in blocked longitudinal flue space, even if the rows are adequately spaced.
Devices are available to keep your pallets of inventory from encroaching upon flue space. Product restraints, such as pallet straps, netting and even the addition of a pallet load stop beam can all help prevent obstructions in flue space.
A pallet load stop beam is similar to a standard beam, but is set back from your rack uprights by the use of special brackets, allowing pallet offset and still maintaining a fixed 6″ flue space.
Training is another method of ensuring no flue space violations. If you operate a warehouse, help your operators understand the importance of keeping this space open. Make sure drivers understand certain pallets will not fit in some racks. Make accommodations so your drivers know what to do in those circumstances.
Practice good housekeeping
Keep aisles and exits clear and have a designated area for storing unused pallets and crates. If you have open space above dock doors, this space can be configured with specialized racking to accommodate empty pallets and keep them from causing an obstruction or fire hazard.
One fire is one too many, particularly when it is preventable.