Your storage solution for long, bulky or oddly shaped product, including furniture
Uninterrupted shelving lengths, taller racking capabilities, and fire-code-friendly decking materials – cantilever furniture racks maximize your storage capacity and efficiency.
Increased Safety
Steel King's open-web design allows for the installation of in-rack sprinklers.
The three open-shelf deck options: bar grating, plank grating or punched corrugated decking, comply with stringent fire code requirements.
Customizing your system for unique loading or more stringent seismic requirements is no problem.
Stability
Bolt-on arms
Grade 5 bolts with vibration-proof nuts
Down-aisle horizontal and diagonal bracing
50,000 PSI steel
Shelf beams and crossbars for proper deck support
Open-Web Cantilever Racks
Open-web allows in-rack sprinkler systems to be installed within the upright frames – maximizing storage space and protecting sprinkler heads from damage.
A variety of base design options make product storage on the floor possible.
Top ties are incorporated for added stability.
Arms adjust vertically in 2″ increments.
Closed-Column Cantilever Racks
Closed-column racks are ideal for free-standing units and single-aisle applications.
Top ties are optional.
Welded or bolted base channels are available.
Use closed-column racks for heavy-duty loads.
Arms adjust vertically in 3″ increments.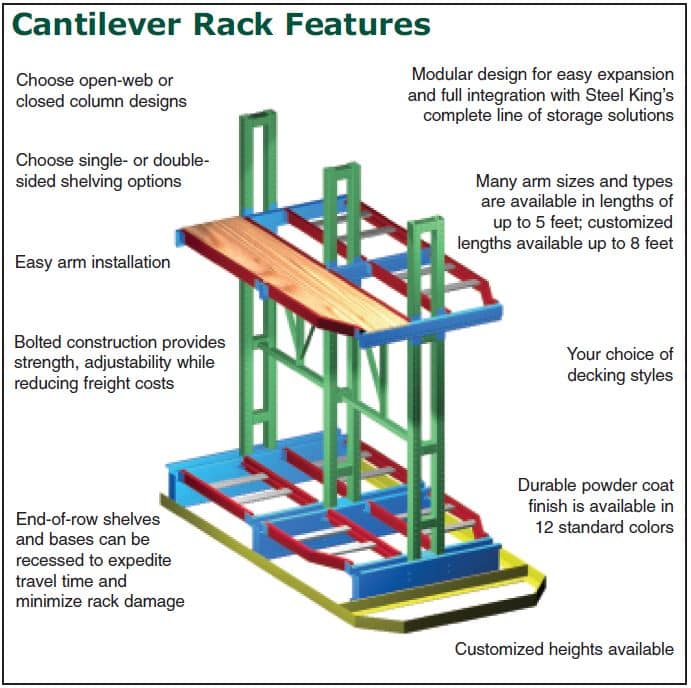 Options and Accessories
Concrete-filled flared entry guides
Offset arms and bases at row ends
Guide rails
Choose from a variety of decking materials
Professional Engineer (PE) Certification for seismic compliance available
Load and capacity identification rating tags
End-cap storage design options
Durable powder coat finish available, choose from 12 standard colors

Selective Racks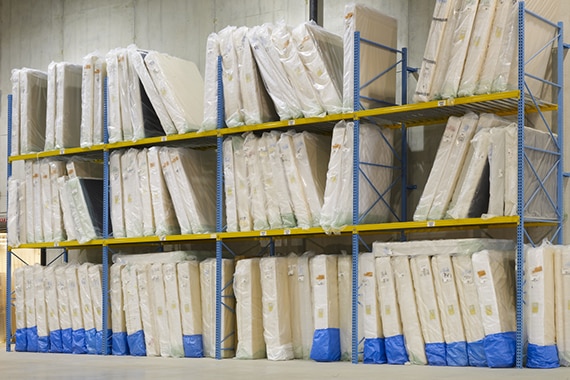 To accommodate heavier, deeper loads, use Steel King's Selective Rack.
When combined with cantilever rack, you can achieve a storage system capable of handling complete line of furniture and accessories.
See also:
With the retail showroom big enough to fit three Wal-Mart supercenters inside, getting the warehouse logistics right was essential.