Roll formed is the most popular and versatile type of industrial pallet racking, and Steel King's closed column design has become an industry standard. Designed with your warehouse durability and safety in mind and drawing on almost 50 years of material handling experience, a fully welded tubular upright gives SK2000® racks superior impact resistance vs. open-back style uprights.
Steel King's teardrop rack is stronger
The strength of our closed tube beams and upright rack frames make your rack safer and more functional. In fact, independent engineering tests have confirmed that, when compared to open back column, SK2000® pallet racking has:
   250% more frontal impact strength
   44 times more torsional strength (resistance to twisting)
   68% more side impact resistance
We put two popular teardrop racks to the test at our test facility – the SK2000® closed back tubular rack and an open back rack of the same size and same gauge steel. We simulated the impact of a 4000 lb. forklift traveling 3 mph.
Watch the video to see the results.

We incorporated thought at every turn. SK2000® columns have a unique 90 degree bend and no corner holes. This boltless rack with teardrop connections and auto-engaging safety locks means SK2000® can be assembled without tools. Columns are available in multiple sizes and thicknesses.
Frames and step beams in this series are made from the same high strength closed tubing as the columns and are available in many profiles and lengths. Bracing is secured with full fillet weld, which in many cases, is 4 times more weld than some competitor racks! Our three rivet connection offer 26% greater strength than a two rivet connection would. SK2000 features make it an ideal warehouse rack.
We will help you analyze your pallet racking needs whether you're warehousing inventory, picking or have fulfillment requirements to develop a system that works for you.
To minimize forklift damage and take durability to the next level, consider factory installed Column Core inserts.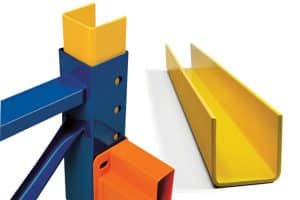 2018 Rack System Design & Buyers Guide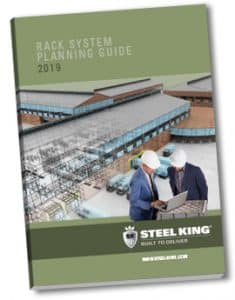 If you're in the process of planning a new warehouse or distribution center or expanding your current facility, there are many factors to consider when purchasing your material handling rack, from seismic zones to cube utilization, to name a few. Steel King has developed a guide to walk you through the basics and also some of the often overlooked aspects when developing a storage system, to make sure you get the most for your investment, both today and for the long term.
Download your copy of the Rack Guide here.