Rack Industry Pioneer Reaches Half-Century Mark through Innovation and Adaptation
Posted on May 11, 2020
The storage rack industry has changed tremendously over the past 50 years, with many suppliers folding in the face of fierce competition. However, there are some who have evolved with the changing needs of the industry and emerged stronger than ever. As Steel King Industries, Inc., celebrates their 50th anniversary this year, they look back on their journey of customer-fueled growth, and talk about how Steel King's substantial investments in new equipment and processes will help move them into the next half-century.
From job shop to industry leader
Steel King started off modestly in 1970 in Stevens Point, Wisconsin, with three people in the front office and nine in their 5,000 square foot production facility. From the first, the company set themselves apart by their willingness to partner with customers to create solutions to their unique material handling needs. Steel King quickly gained a reputation for superiorly-engineered products that performed better, lasted longer, and were safer than others on the market. While the company grew in size, it kept the same customer-focused mentality, superior engineering capabilities and ability to adapt as the needs of the customer, facility, and process evolved.
Today, Steel King operates three manufacturing facilities with a combined manufacturing area of more than 600,000 square feet.
Steel King president Jay Anderson, whose father was one of the founding partners of the company, says one of the company's strengths was initially a product of their location. In the early years, many of Steel King's employees had grown up in the central Wisconsin dairy industry. Their work ethic, "get-it-done" attitude, and diligence quickly became ingrained in Steel King's core values.
"Our employees' desire to go the extra mile, often working weekends to get a project done for a customer, is the basis of the company's success," says Anderson.
History of product and process innovation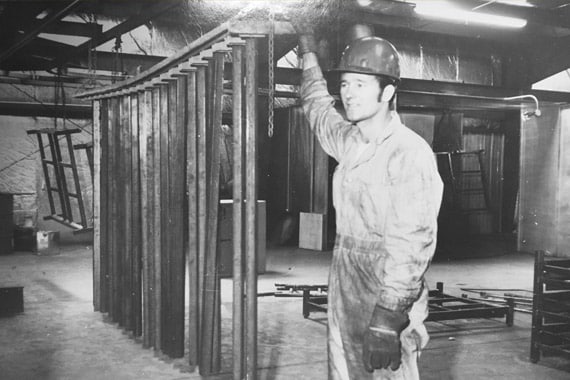 Anderson also attributes much of the company's success to its dedication to improving products. Coming from job shop roots meant the company was used to every order being different and had the skills and knowledge to craft a wide variety of products.
Over the years, this enabled Steel King to adapt existing material handling solutions to better meet customer needs, often developing new product lines in the process. In addition, the company was constantly exploring ways to improve existing products. For example, when powder-coat paint first became available, Steel King was one of the early adopters of the new painting technology. The switch resulted in rack that looked better, had a greater resistance to corrosion, and was more durable.
In the early 2000's, in response to tightened labor markets, automated systems were becoming highly appealing to warehouse customers. Recognizing they had products that could be adapted to the ASRS market, Steel King made critical investments in fabrication and production equipment that could hold the required tight tolerances and produce high quality, high-capacity rack frames. The resulting product enabled the construction of a 120-foot-tall automated facility – the tallest of its kind in North America at the time – and paved the way for many additional ASRS and rack-supported facilities.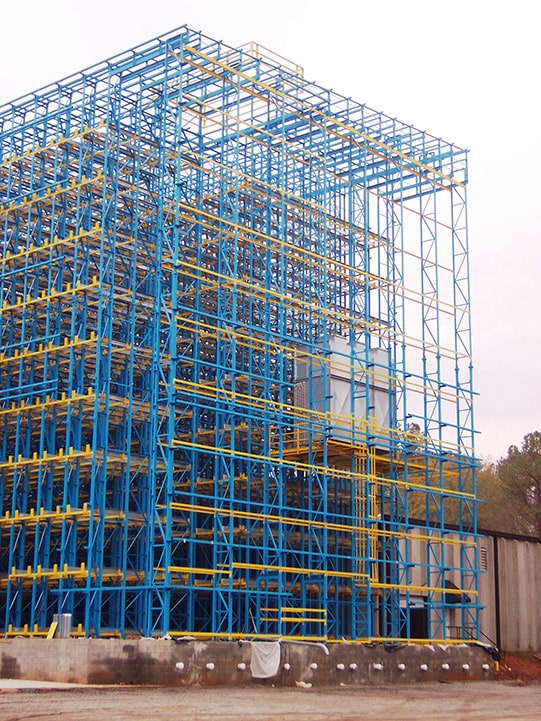 The pace of innovation has been speeding up recently with more products in the pipeline than in past decades. The company is placing an emphasis on growing new products; more than 50 storage rack projects are in development, with three currently undergoing the patent process.
Investing in the future
As e-commerce continues to drive demand for industrial storage rack products, Steel King has made a huge investment in more automated equipment to enable the company to achieve substantial production capacity increases and respond to customer desires for shorter delivery times. This also allows the company to operate more efficiently in tight labor markets and achieve consistent quality. New human-supervised automated robotic welding cells and automated paint systems have been added, and the entire production line for top selling products has been totally integrated from one end to the other. To ensure these lines have the highest-quality materials, supply chain experts constantly track and evaluate new steel mill technology that controls chemistry and physical properties and have changed material types several times to offer higher-strength materials at lower costs.
Success based on hard work and dedication
"Steel King's success and growth is very personal to me and to the many long-term employees who have helped build the business over the last 50 years," said Anderson. "We are one of the only remaining domestic storage rack companies left in the market, and I am thankful for the hard-working Steel King employees and dealer partners who have helped us reach this milestone."
Here's to the next 50!