Round Corner Corrugated Containers
Posted on Sep 28, 2020
The Lasting Solution to Rugged, Low-Cost Bulk Parts Storage
The all-purpose industrial container is built for abuse, custom to the application.
Heavy corrugated steel sides and deck make Steel King's Round Corner Corrugated Containers a rugged, low-cost, all-purpose solution to bulk parts storage that's built to withstand the most abusive industrial environments—from automotive to foundries to construction—for decades.
"Round Corner Corrugated Containers are built to take a beating and will stand up to being knocked around by fork trucks and other equipment in the toughest environments," says Craig Heil, Manager of Container Design and Sales at Steel King. "For automotive, foundries, construction, oil drilling, farm implement manufacturing, or any industry that stores and handles heavy, bulky parts, this container provides lasting, low-cost storage."
With a standard indoor/outdoor 4,000 lbs. capacity and larger load capacities available, Round Corner Corrugated Containers provide easy stackability up to four high, even when fully loaded due to stability-providing universal stacking legs.
Their easy-to-clean round corners help prevent dirt build up, and their round edges minimize snags and sharp-edge impact damage. An inside useable height up to 48" in 3" increments provides ample room for large, bulky parts.
Unlike tall, narrow 55-gallon drums or typical collapsible wire containers, the Round Corner Corrugated Containers are designed to ease stacking, material handling, and parts accessibility—all while carrying a maximum, heavy-duty load. To optimize operational efficiency, Round Corner Corrugated Containers can be customized to suit specific material handling and operational needs. Load capacity, base size/design, stacking leg design, and inside usable height, for instance, can be specified.
A number of options can improve storage and material handling performance, as well. Fork stirrups can enhance container loading, stacking, and maneuverability even with uneven loads.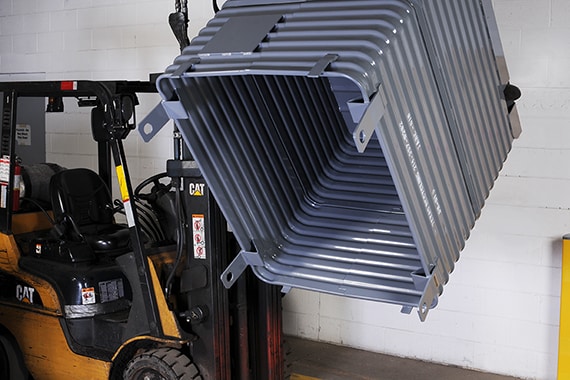 Roll-over runners can help with dumping the containers contents. Crane eye hooks can improve overhead maneuverability for construction or vertical workspaces. Venting holes and bar grate decking can improve airflow to aid cooling, which is important in forging and foundry work, for instance.
Round Corner Corrugated Containers are available through Steel King's 48 Hour Quick Ship Program, where with one phone call the order is placed and freight arrangements are taken care of. This eliminates the hassle of trying to find an affordable carrier with an available truck in the area, and saves time and money by helping to coordinate shipping and installation.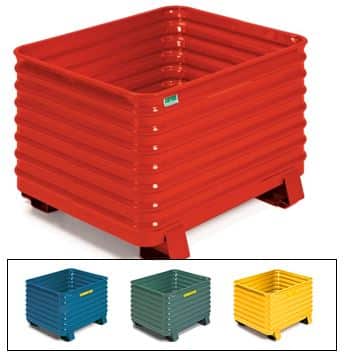 A choice from a variety of standard colors, including complementary company graphics, allows color-coding the containers to a specific plant, product, operation, or department.

Contact Steel King or your local distributor for more information.
Posted in Blog | Comments Off

on Round Corner Corrugated Containers