Steel King Receives Ambassador of the Year Award
Posted on Mar 4, 2019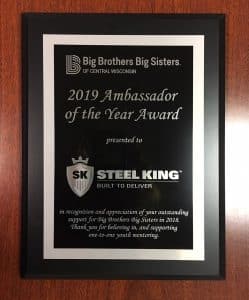 Steel King was recently named the first-ever honoree of the Ambassador of the Year Award from Big Brothers Big Sisters of Central Wisconsin in recognition of the company's twenty-plus year partnership with the organization. In addition to providing financial support, Steel King employees also volunteer as mentors for program participants in Portage County.
Brian Pfannes, Director of Purchasing for Steel King and a member of the executive team at Big Brothers Big Sisters of Central Wisconsin, affirms that "I've personally seen how this program changes lives, not just for the children that participate in the program, but also the "Bigs" that often form lasting connections. I take great pride in working for an organization committed to making positive, often life-changing investments in the youth of our community."
We're honored to have received this award, and look forward to many more years of continued partnership to help support the youth in Portage County.