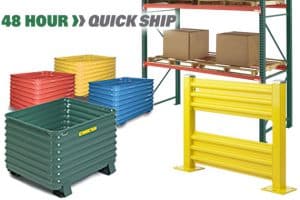 Steel King's exclusive Quick Ship program provides fast shipping for steel racking and makes ordering the most popular Steel King® products, including the original 100% tubular SK2000® pallet rack, easy and painless.
With our Quick Ship program, you can get your rack components, industrial containers, industrial guard rail, portable racks, steel rack accessories, and wire decking in one shipment – with only one invoice to follow. Steel King®, utilizing its national purchasing power, has negotiated extremely favorable LTL rates from both our Sauk Village, IL, and Rome, GA, Quick Ship Facilities. With one simple phone call to Steel King, your Quick Ship order is placed and your freight arrangements are taken care of. No more headaches trying to find an affordable, available carrier – saving you time and money.
Be sure to fill out our PO Pre-Check Form to ensure we have all the information we need to avoid any unnecessary delays.