Attending ProMat 2023? Here's How to Get the Most Out of the Expo
Posted on Mar 2, 2023
More than 1.2 million square feet of exhibit space.
More than 1,000 vendors.
More than 150 seminars.
With those numbers, ProMat – the annual material handling and supply chain expo, can be overwhelming to people attending the four-day show in Chicago. But it doesn't have to be and, on the contrary, ProMat can be a very rewarding experience – if you plan your visit, says Steel King's Director of Marketing John Clark.
"As an attendee, you don't want to just go there and hope you find what you're looking for. You need an plan," says Clark, whose first ProMat was in 1995 — so he's done a few of them.

ProMat organizers make it very easy to plan, offering a variety of resources tailored to make visits to the show as productive as possible, he notes.
The grouping of vendors into 'solution centers' also benefits attendees, who can concentrate on a section of one of the exhibit halls, depending on whether they are interested in Robotics and Automation, Manufacturing and Assembly, Fulfillment and Delivery, or Information Technology.
"Make an action plan and say, for example, 'These are the 20 people I need to talk with, based on what my business needs – my pain points, what I need to have done,'" Clark says. "Otherwise, if you just go there, you're just going to be attracted to bright and shiny or noisy."
Pending Project? Bring Your Plans
If you have a project coming up, bring your plans with you, advises Clark. "Exhibitors bring their best and brightest to ProMat. When we are scheduling one-on-one visits at our booth, we make sure we have the right people available at all times. We look to have the right combination of technical and sales people there to help. An attendee can even schedule time to meet with us, at steelking.com/promat/, to let us know what they want to talk about, and when."
If you haven't scheduled time with a specific vendor, a meeting could still be possible.
"Don't dismiss the possibility of having a meeting," Clark says. "You might be able to have that meeting while you are there; just ask someone working at our booth." Like other vendors, Steel King has dedicated meeting space at part of its display.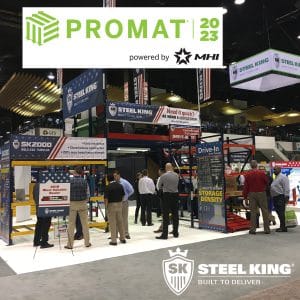 ProMat App Can Guide You Through the Show
With all the exhibitors spread throughout two halls at McCormick Place, there's a lot of competition for the attention of show attendees. Use the ProMat app to help guide you through the show, schedule meetings and make the most out of the event. Consider less-busy times if you want a chunk of unscheduled time with a specific vendor. While the show starts on a Monday, for a lot of people, that's a travel day. From his experience, Clark notes that the busiest times for ProMat are Monday afternoon, most of Tuesday and then Wednesday morning. "But that doesn't mean you can't get a good interaction on Thursday," he says. "Sometimes, you can get a better interaction because there are fewer people around. So, depending on who you want to talk to, be aware that some companies stagger their booth staff, so the specialist might not be there on Thursday, so all the more reason to schedule a discussion time."
Seminars Offer Great Industry Information
When you're not visiting exhibitor booths, consider attending one of the 150 seminars at ProMat. There will be a lot of good ones, Clark says. "Just as you plan your attack of which vendors you want to see, plan which seminars you want to attend. Some will have repeats, so if you can't make one time, the other might work. Some reach capacity, so don't expect you can walk right in at the last minute and get a seat. If you can't make it in, they'll scan your badge, and the audio will be available after the show."

Clark says the presentations, which must be educational according to ProMat guidelines, are "a great way to learn, especially if you are new to ProMat; those sessions are really great to get a good handle on the industry. Each presentation is categorized based on the breadth of information: Beginner, Intermediate, Advanced.
Steel King will offer two presentations: "Everyone's Talking About Automation, But Is Automation Right for Everyone?," and "Knowing the Total Cost of Ownership and Avoiding Risk with Your Pallet Rack System." Steel King personnel also will be part of presentations on new standards of the Storage Manufacturers Association and Best Practices to Mitigate Risk, and Storage Rack Safety 101.
Clark also advises attendance at the keynote presentations, and any "industry night" and other networking gatherings that are pertinent to your work.
Dress Comfortably and Take Time to Eat
Even with a plan, you're going to do a lot of walking, from the minute you step into McCormick Place, head up to the halls on Level 3, and then traverse the expo floors. So, wear comfortable shoes and dress comfortably, Clark says. "It's not a fashion show, and keep in mind the show is in Chicago – who knows what the weather will be like at the end of March."
Conditions inside the hall can be a factor, too. "These kind of exhibit halls typically have a dry environment," Clark says. "Stay hydrated and look for exhibitors who offer free bottles of water versus paying several dollars for one at a concession stand."
Besides thirsty, you will likely get hungry during the show – you'll burn a lot of calories through all the steps you'll be taking. Clark advises the ProMat Bistro as a preferred place to eat, as compared so some of the concession stands. ProMat Bistro is a cordoned-off area of the far north side of Exhibit Hall B2, and is open daily from 11 a.m. until 2:30 p.m. The price ($29 for tickets bought in advance or $31 at the door) includes a full buffet selection. Dining at the Bistro can let you avert long lines that are customary at concession stands.
People staying at one of the designated hotels might encounter a quicker shuttle ride this year, as the city has designated busways that should reduce travel times.
ProMat runs Monday, March 20, through Thursday, March 23.
Enjoy the show and have fun, but remember, you're there to work. Follow the above advice to make that work the most productive.
Meet John and other Steel King personnel at Booth S1941, near the center of McCormick Place's South Hall.
What about the city outside of McCormick Place? See our blog on what to do in Chicago for recommendations for places to eat, drink, be entertained and more.
Posted in Blog | Tagged Chicago, events, ProMat 2023 | Comments Off

on Attending ProMat 2023? Here's How to Get the Most Out of the Expo