Inside the Country's Largest Home Furnishings Warehouse
Posted on Aug 20, 2020
How Nebraska Furniture Mart's DFW warehouse systems deliver the goods
What does it take to run the country's largest home furnishings store, Nebraska Furniture Mart's Dallas-Fort Worth, Texas location, a 1.3 million sq. ft. distribution center with an attached warehouse and 560,000 sq. ft. retail showroom on 100 acres?
With the retail showroom big enough to fit three Wal-Mart supercenters inside and eight million shoppers expected per year, getting the warehouse logistics right was essential.
Despite its massive size, one goal was to give customers the option of convenient delivery of purchased products to their cars within eight minutes, according to Haynie Mayhew, a systems integrator at Precision Warehouse Design, a Dallas-based warehouse systems design integrator that worked on a portion of the Nebraska Furniture Mart warehouse project.
"Nebraska Furniture Mart had about 65,000 sq. ft. of space above the customer pick up area where customers come to get loaded, and wanted a two-level storage system that could quickly deploy conveyable items down to the customer's cars," says Mayhew.
According to Mayhew, it was necessary to maximize storage by SKU and product volume in the area above the customer pick up area, and a two-level pick module was perfect for that.  Pick modules allow dense product storage, reduced material handling, and the ability to quickly, accurately, fulfill multiple SKU customer shipments, particularly when designed as a multi-level rack supported system.
To accomplish this, Precision Warehouse Design designed a two-floor, rack supported, 62,000 sq ft. pick module.  Since the pick module is so large, three vertical lifts were placed on one side of the structure to transport carts and palletized items to the top floor and multiple conveyors installed on both levels to transport orders out of the storage space.
About half of the pick module's top floor is dedicated to pallet locations, with the remainder used for hand stack bulk racking and shelving of primarily electronics and home goods, which are able to be conveyed.  To ease access to the pick module and meet building code for fire egress, ten staircases were installed within its structure.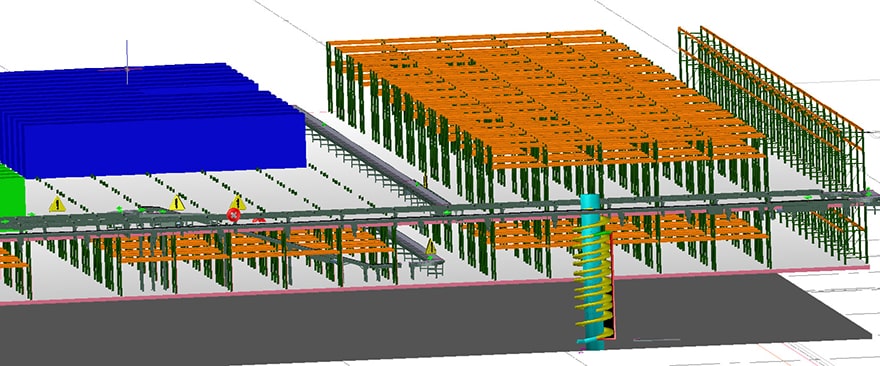 Since the pick module would need to support the weight of full pallets, picked product, and several conveyors per level, SK2000®, closed tubular, boltless pallet rack by Steel King Industries (steelking.com), a manufacturer of material handling and storage racking products, was chosen to meet strength, stability, durability, and maintenance goals.
Compared to open back roll formed columns, the closed tubular uprights are 44 times more torsion/twist resistant, with 250% greater frontal impact resistance and 68% greater side impact resistance.  All beams are constructed of high-strength (55,000 p.s.i. minimum) steel, and holes are placed on the column's face, not the corners, minimizing strength loss.
"With the pick module, we basically built a bridge over the top of the customer pick up area, and some spans were over 15' holding up the top level, so the strength of the Steel King's closed tubular uprights made everyone comfortable with the design," says Mayhew.
To efficiently get pallets of product to the pick module's top floor for storage, three PFLOW vertical lifts were installed with specific cut outs within the pick module.  While these three vertical lifts bring pallets of product up for storage, a fourth vertical lift integrated with pallet handling conveyor also brings large bulky product down from the top floor of the pick module as needed.
From the pick module, all items picked by hand are carried by one of six TGW and Alba Conveyor Systems lines through one of two 5 sided Datalogic scan tunnels.
The first scan tunnel determines whether picked product goes down one of the ~35' tall Ambaflex spiral conveyors to the customer pick up parking lot.  There store employees may match it with purchased items from other onsite storage locations, and load it into customers' cars for them, says Mayhew.  The second scan tunnel and conveyor handle larger items and similarly decides which picked product goes down a PFLOW lift with onboard conveyor to a different part of the customer pick up area, where it may be matched with other purchased items and loaded into customers' cars.
Product not diverted to the customer pick up area is conveyed about 3/4 mile through the distribution center, where it goes down another spiral conveyor or PFLOW lift to the  replenishment area, which stocks the retail showroom floor.
According to Mayhew, since the pick module was built over the store's customer pick up area and the floor was not level, care was taken to securely position and anchor it.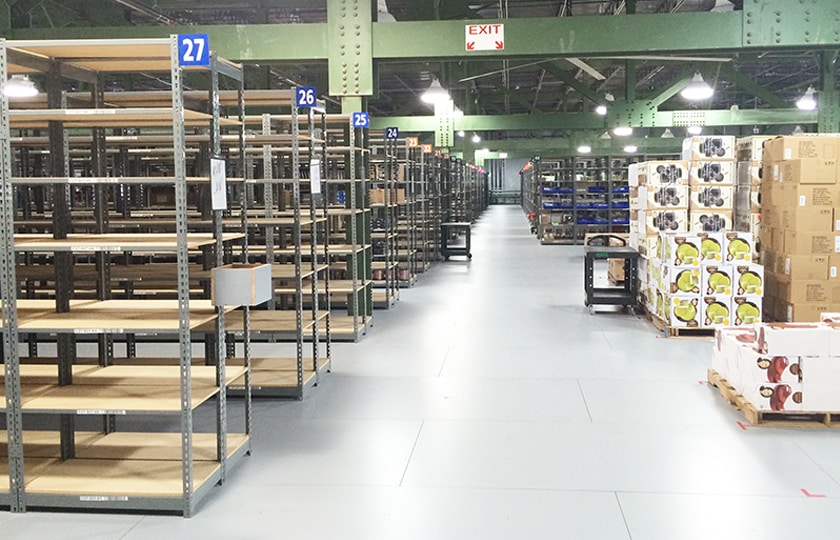 Unlike some racks with single anchor holes that make tougher access for anchoring, the closed tubular, boltless Steel King SK2000 rack has multiple offset anchor holes for flexibility in anchor placement, and its heavy-duty nesting ridge helped to properly shim it into position for secure anchoring on the uneven floor.  While boltless assembly eased the rack's installation, its flush to column base helps to evenly disperse load weight.
After Nebraska Furniture Mart "soft tested" its warehouse delivery system with purchases by friends and family about a week before opening to the public, the store recently had its grand opening to much acclaim.
"Customer service is extremely important and Nebraska Furniture Mart of Texas is expected to serve the entire population of the Dallas – Fort Worth metro area each year, as well as many shoppers from surrounding cities and states.  Thus, proper integration of the warehouse systems behind it is key to making that happen flawlessly," concludes Mayhew.
See also:

Uninterrupted shelving lengths, taller racking capabilities, and fire-code-friendly decking materials – cantilever furniture racks maximize your storage capacity and efficiency.
Posted in Case studies | Comments Off

on Inside the Country's Largest Home Furnishings Warehouse