Rack-Supported Freezer has Baking Business on the Rise for Vieira's Bakery
Posted on Jan 6, 2021
Rack-supported addition helps Vieira's Bakery

optimize production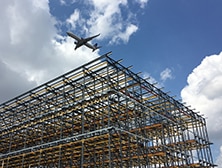 Vieira's Bakery required more frozen storage capacity fast before its fourth production line came online.  As a major producer of European style breads, the 100,000 sq foot, Newark, NJ-based bakery had expanded to ship nationwide and to Canada, but sought to more efficiently produce and store over 150 SKUs of frozen par-baked and fully baked rolls and breads.
"Because of insufficient freezer capacity, we sometimes had to switch products on the same production line a few times a day, which reduced productivity," says Carlos Vieira, founder and President of Vieira's Bakery.  "Adding freezer capacity was essential before implementing our fourth production line and critical to our expansion efforts."
Vieira chose not to buy or lease an offsite production facility due to the added cost and logistical complexity.  While he was able to buy some additional land next to his plant, it did not contain sufficient space to effectively layout and construct a new building.
Looking to add frozen storage capacity and optimize production, Viera turned to Daryl Hull, a racking and material handling consultant with 40 years of industry experience, and Steel King Industries, a storage system and pallet rack manufacturer.
Rack-supported solution
As an alternative to erecting a standard building and placing storage rack inside, Hull recommended implementing a more space-efficient, rack supported, freezer storage structure with insulated panels attached to the sides and top to form sidewalls and a roof.
"Rack-supported structures help to maximize storage because the building envelope exactly matches the storage space," says Hull.  "The design eliminates the need for building columns, which waste space and interfere with traffic.  Instead, the rack uprights act like building columns, and freezer units can be positioned within the racking to further optimize storage."
Vieira decided on a rack-supported pushback rack structure that added about 8,000 sq ft of rack supported storage and 1,200 double pallet positions.  At Vieira's discretion, the 4-level high structure matched the 40-foot height of his existing facility.
Because of the efficient use of space, the rack supported structure was able to be built in a corner of Vieira's existing land, right up against his property line.

Pushback rack in a three-deep configuration was chosen to maximize storage density.  Pushback pallet rack offers up to 90 percent more product storage than selective rack systems and up to 400 percent more selectivity than drive-in racks.  Unlike static, single-pallet-deep selective racks, a dynamic pushback racking system allows pallets to be stored two to five deep while providing easy access to a variety of different SKUs.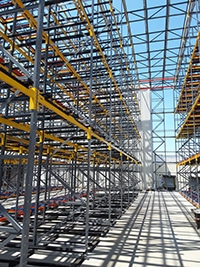 With pushback rack, pallets are stored behind each other in a series of nested carts and are loaded from the same side of the system, eliminating separate aisles for each function.  Composed of a stable rack along with a series of inclined carts and rails, when one pallet is pulled, the one behind it rolls forward.
The rack-supported, pushback rack structure, however, required exceptional strength.  This was not only to support up to 1,200 double pallet positions but also the weight of numerous freezer units, plus the insulated panels, wall girds, roof trusses, roof purlins, overhead ties, and other support required for the rack structure's outside cladding.
As a solution SK3000® pallet rack – a rugged bolted rack with structural channel columns, by Steel King – was recommended.  A number of rack features helped the company meet its strength, durability, and maintenance goals.
Structural uprights provide building frame strength
Compared to typical racking, the pallet rack constructed of hot-rolled structural channel column with full horizontal and diagonal bracing offers greater frame strength, durability and cross-sectional area.  All Grade-5 hardware provides greater shear strength, and a heavy 7-gauge wrap-around connector plate ensures a square and plumb installation with a tighter connection and greater moment resistance.
"The rack's strength allowed us to hang the freezer units right off the racking without a separate structure," says Hull.  "We were also able to create a walk-through personnel tunnel through the racking to an exit door, which gained us additional pallet positions compared to traditional building and rack designs."
According to Hull, after laying a slab right beside the existing Vieira's Bakery freezer storage area, the new rack supported structure was finished and ready to use within 8 weeks, in time for the company's new production line.  When the new structure was finished, a hole was cut in the wall of the existing freezer area to create a pass door for lift trucks to enter the new freezer space.
"Since we implemented our Steel King rack supported, pushback rack structure we have enough frozen storage capacity to run a product line for an entire day, so we are more productive and ready to grow," says Vieira.  "The rack supported option was easier and much more cost-effective than having to purchase additional land, erect a new building, and then install new rack inside."
According to Hull, because rack supported structures can be depreciated as equipment, typically over seven years instead of over a standard building's 30 years, some tax advantages exist for them as well.
"Any company with limited land or storage space, or that requires fast implementation should look into a rack supported structure," concludes Hull.  "Rack-supported structures can be built over 100 feet high with more than 15 levels of storage, though any above 35 feet may require an automated retrieval system."
For more info on optimizing warehouse storage and production, contact us.

Posted in Case studies, Food & Beverage | Comments Off

on Rack-Supported Freezer has Baking Business on the Rise for Vieira's Bakery