Steel King's SK3000® pallet rack is the result of continual innovation and advancement to improve the durability and functionality of structural pallet racks. SK3000 industrial racking provides greater overall strength and rigidity because it's manufactured of high c-channel structural steel. With a longer service life, lower maintenance costs and improved safety, SK3000® is a high performing material handling rack and the best value in structural pallet racks available.
SK3000® Structural Rack is a modular system, providing the flexibility to fit a wide variety of applications and expands easily as your storage requirements grow.
What sets SK3000® apart?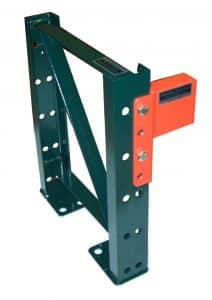 Upright frame columns are available in 3″, 4″ or 5″ options. Structural channel steel construction enables greater resistance to fork lift impact damage while increasing load carrying capacity and resistance to seismic forces. Structural angle is used in the full horizontal and diagonal bracing.
Beams are manufactured with high-strength steel and are one piece, seamless, and continuously welded with full vertical weld.  Bolted beams are easily adjustable in 2″ vertical increments.
Column-to-beam connections are made with a heavy 7 gauge wrap-around connector plate that helps square the rack for tighter connection. Using two bolts per beam, this provides 57% more strength than single bolt designs. Grade 5 hardware provides greater shear strength for your system. The bolted connections are designed to exceed RMI standards.
Top to bottom, the strength of SK3000® is evident. Standard footpads are made of 7 gauge steel plates and are welded to each column, efficiently dispersing floor loads. A heavier duty footpad is also available.
Powder coat paint finish is not only appealing, it is more durable against impact damage, and more resistant to chemicals, chips and scratches than liquid coating.
It is evident that structural channel rack is the system of choice for many applications because of its heavy load capacity and superior abuse resistance and can be used in any of the following applications:
Contact us today to learn more about this versatile warehouse rack.